In addition to drawing, Frank had a lifelong love affair with the written word. He was an avid collector of quotes by other people, as well as an author of countless quotes, puns and humorous writings himself.

Frank was a keen observer of life, an attribute which became the foundation for much of his writing. In addition to appearing in his Monday Time's column, his quotes were published nationally in the Saturday Evening Post, Reader's Digest and Forbes magazine, as well as in numerous quotation anthologies such as the Forbes Book of Business Quotations which featured over 50 of Frank's observations on life.

Some of Frank's work was also published in other forms including advertisements and motivational posters. There is even a reference to one of his quotes in a "Dear Abby" column.

One of Frank's best known quotes appeared in a May 1969 issue of Editor and Publisher:

"Who's that fellow with face so solemn?
They say he writes a humor column."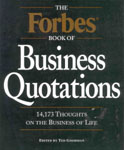 Frank's quotations
appear in numerous
anthologies, including
this one by Forbes
magazine