Frank was born on December 24, 1929 in Brooklyn, New York to Belle and Joseph Tyger. His family moved to Hamilton, New Jersey in 1950 while Frank was in the Army. The oldest of three brothers, Frank lived with and cared for his parents until their passing. His middle brother, Stan, passed away a number of years ago and his youngest brother, Bob, still resides in Hamilton Township. Although Frank never married and had no children of his own, he was like a second father to his two nieces and nephew.

Even at an early age Frank displayed a natural ability to draw. Oftentimes he would sketch portraits of family members during their visits to the Tyger home.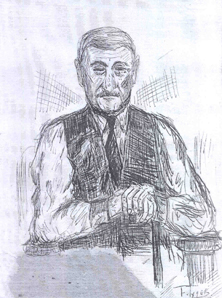 Drawing by a young Frank Tyger of his maternal Grandfather, Michael Heller
Frank graduated from Samuel J. Tilden High School in Brooklyn in 1948. It was there that he got his first experience in the newspaper world - editing the school paper, "Tilden Topics."




1948 Graduation Photo -
Samuel J. Tilden High School (Brooklyn)

An early start in newspapers -
Frank was editor of the school paper
After graduating from high school, Frank pursued a higher education at the City College of New York (CCNY) and the Cartoonists and Illustrators School. This was followed by two years of service in the U. S. Army, first at Camp Gordon, Georgia and then overseas in Germany as a cryptographer.
Following his Army service, Frank settled in the Trenton, New Jersey area, where his family moved in 1950 at the time his Father accepted a relocation with Baxter Clothes. Frank worked in retail for a number of years, first as an assistant manager in the men's department at Yards Department Store and then in marketing with Baxter Clothes opening stores for them in the southern United States.
Frank then spent five important years working as an account executive for the Albert Finkle Advertising Agency in Trenton. It was during this time that his natural skills as an artist and writer were fully realized.


Frank (left) at work at Baxter Clothes
in Trenton, NJ


Frank (right) reviewing an advertising
campaign at the Albert Finkle Agency
Frank's first cartoon was published in the Saturday Evening Post in 1954. Over the years, many of Frank's cartoons, quotes and puns would be published both in the United States and internationally.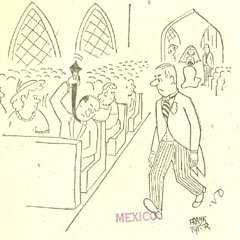 An early Frank Tyger cartoon that appeared in a Mexican newspaper
Originally published in the United States, a number of Frank's cartoons
were also picked up by the international press.

In 1962 James Kerney Jr., then editor and publisher of The Trenton Times, offered Frank the job of his dreams -- editorial cartoonist. For the next 34 years, Frank worked for The Times drawing these cartoons, assuming other responsibilities including Promotion Manager, and writing a weekly Monday column for the paper. During this time, he continued to pursue his lifelong interest in authoring quotes and puns which were published nationally in magazines such as Reader's Digest, Forbes, Editor and Publisher and the Saturday Evening Post.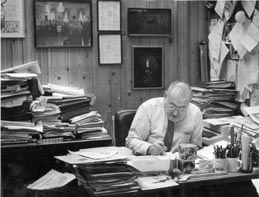 "It's right here in one of these piles"
In his office at the Times
Frank retired from The Times in 1997 after serious back surgery and an early diagnosis of Parkinson's Disease. During his retirement, Frank went to live with his brother and sister-in-law, Bob and Charlotte, until 2002 when he moved to Greenwood House in Ewing Township, New Jersey. On May 2, 2011 Frank passed away after his 15-year battle with Parkinson's Disease.

This biographical sketch is based on recollections from Frank's family, as well as an article written by former Times Senior Editor Arnie Ropeik for the Greenwood House newsletter.